Reading Time:
5
minutes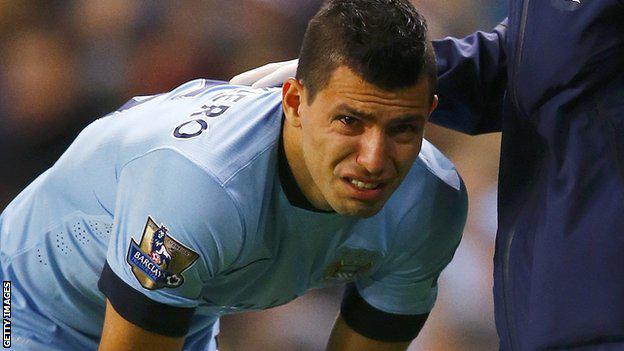 So most of us have a major issue to deal with, what do we do with Aguero? Having been ruled out for at least 4-6 weeks he has to go, here is a look at some possible alternatives.
We may have lost our permanent captain, but there is no shortage of replacements. The big question is do we go after the obvious straight swap to a premium, or is it worth taking a risk and gambling on a few PODs. In my opinion, the biggest issues to consider with your transfers are the Festive Period injuries/suspensions and the January wildcard. It is important to have a solid bench as we've found out over the past week, things can turn ugly quickly. It's also important to remember that the team structure you go with for the next month can be changed straight away!
The fact that we have a free wildcard available to us next month opens up a whole lot of options with regards to dumping Aguero, giving us managers a fantastic chance to try something different with our teams. Before I go into depth about team structure, here are the options that need to be considered when replacing the Argentine:
Costa – It's true, he hasn't really fired up since the first month. Realistically, we can't expect him to score consistently all season. Fact is he scored 9 goals in his first 7 games, and his next scoring streak is just around the corner. He is a 25+ goal per season player, yet is priced at just 11.0. His lack of assist work is quite concerning, and once Sturridge comes back we will have a decision on our hands. For now, I think he's the best striker option available. A home game against Hull spells trouble for non-owners.
Van Persie – Even though he's crazily overpriced, he does have to be considered. His form has turned around dramatically over the past few weeks, 2 double digit hauls in the past 3 weeks prove he still has what it takes. Did I mention that he's crazily overpriced. I'm sorry, but 12.4 is just too much for what he offers. Is he worth a punt over the next month? If he didn't have so much competition, I'd say yes. Rotation concerns me. I'll be avoiding him.
Rooney – The other forward premium to consider is Rooney. He brings to the table what the others can't, consistency. Having notched attacking returns in 7 of his 11 appearances so far (3 in a row) you can safely bet he won't be blanking too often. The big issue is that he doesn't go big, with guys like RVP, Falcao, Di Maria and Mata sharing the points. Secondly, United aren't quite at their free flowing best, struggling to put teams away. I think he's a solid option, but I'm not sure he will be too damaging. I could come to regret passing on him!
Yaya Toure – With Aguero going down, Toure will crucially be on City's penalties. I'm sure I don't need to remind his non-owners last season what that entails. I'd bet that he also steps up when other big names are out, he scored 20 goals last year with Aguero missing half the season through injury. The return of Silva will give City a massive boost, plus they showed great form in beating Roma last night. We all know what Toure's capable of, and 3 goals in 4 games suggest his form is back. I'll leave you with this. City's next 5 fixtures: Leicester (A), Crystal Palace (H), West Brom (A), Burnley (H), Sunderland (H). Coverage is surely a necessity.
Silva – Following on from Man City's fixtures, Silva must come back into the fray now that he's fit and training. What worries me is that even when in-form, he can fail to impact games from an fpl perspective. He started the season on fire, yet returned points in just 3 of his 9 appearances. I could transfer Siggy to him, but I'm not sure he will score much better. City's fixtures do make him a viable POD for sure.
Sanchez/Hazard – Put it this way, if you don't have Sanchez then you'd be stupid not to get him in with Aguero's injury. He's well on track for a 20+ goal season as a midfielder, they don't come around too often! If you're not a fan of Costa, then Hazard is surely the option. He will be on Chelsea's penalties and is looking incredibly dangerous right now. He was rested midweek and is set for a massive few weeks with Chelsea's kind fixtures.
Bony/Benteke – My opinion is we should avoid them like the plague. What do they offer that guys like Sakho and Austin don't? Bony has been in hot form, scoring 3 and assisting 1 in his last 4 games. Despite this, he hasn't received more than 1 bonus in a game. I can't see him maintaining this goalscoring form, and even when he's in form his scores aren't exactly making it count. Benteke is a massive risk, what has he shown over the past 12 months to say he's worth the extra price tag? I'm really not sure, and I'm not one to show blind faith!
Carroll/Sakho/Austin – If you want to get a gun midfielder, then you'll want one of these guys. The advantage of Aguero's extra price is that you can gain some extra coverage by bringing in a cheaper forward as well as a midfielder (Depending on how you wanted to use the extra cash). I'll be passing on Andy with his fitness and rotation a worry, but don't get me wrong if 7.0 is your price bracket he is worth a huge shout. Could be a fantastic POD. Austin is my pick of the cheap forwards, red card aside he was on track for another big score. Sakho could find himself being used as an impact sub with Carroll's form, but you'd expect West ham to play 2 up front. With rotation a possibility and the African Cup of Nations imminent, he is more of a risk. Having said that I've brought him in for my bench, if he does get starts then he could be the difference!
Aguero's high price means that you should be able to clear up some extra room in your budget, but what to do with that left over budget? In my opinion, I don't see much value in upgrading your low-end midpricers such as Sigurdsson to premiums who may be struggling for form. Firstly they are already scoring just as well, secondly you might want them back and may lose yourself up to 0.5 in value. If you can't reach the top bracket, I suggest you try to upgrade your bench. I'm not a fan of having players worthy of a start on your bench, but this time of year is an exception. You can re-structure next month anyway!
My advice is to avoid the midpricers completely. In that 7-9 price bracket, Pelle is the only person to average over 5 points per game (5.3), however we haven't seen that kind of form for a while now. The fact is at the end of the day guys like Lukaku/Eriksen/Bony are scoring at a similar rate to Sigurdsson/Downing/Austin. Until one of them starts going huge I'll be ignoring their existence. Benteke is a wildcard, but we haven't seen him in top form for almost 2 years, it's a huge gamble. Yes he can do it, but I'm not prepared to take the risk considering he's only been back for 3 games with a top score of 7.
Personally, the toss up was between Yaya Toure and Rooney. I was leaning towards Yaya, but his 4 yellow cards and imminent exit to the African Cup of Nations forced me to think twice. Because I missed his huge season last year due to stubbornness I'm giving Toure the benefit of the doubt. Rooney will share the spoils with Van Persie and Falcao, whilst Toure will be a focal point without Aguero. His penalty duties tipped the balance.
To get him I'll be trading Aguero to Sakho for bench support, then upgrading Boyd to Toure. Minimal hits, full coverage and an extra player just incase there's anymore suspensions or injuries!
Let me know what you guys are thinking in the comments. If you have any queries, feel free to ask! Good luck with the first real task thrown at us, I'll be back with a very intriguing captains article tomorrow!